Acclaim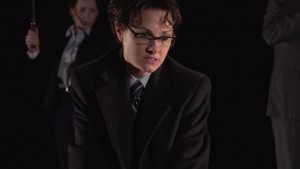 "Mezzo Sandra Piques Eddy, in the castrato/trouser role of Idamante, was Jarman and Elettra's worthy foil. Piques Eddy is a slip of a girl, but she sold her manliness in her poised stride and in her vocal power and assertive delivery. Idamante represents Mozart's conservative Enlightenment ideal of a nobleman: Courageous, passionate, but willing to rein in appetites and even sacrifice himself for the public good. In her stance and in a mezzo voice at once rich and brilliant, Piques Eddy embodies that ideal. She and her Idamante were both noble in the best sense of the word."
Tom Strini

Third Coast Digest
08 May 2012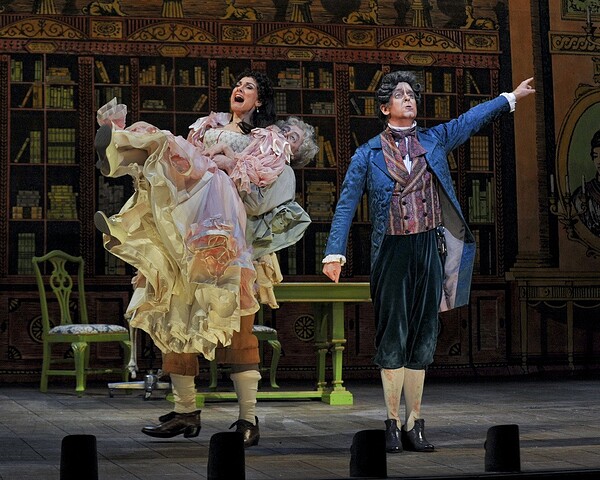 ROSINA in IL BARBIERE DI SIVIGLIA at Lyric Opera of Kansas City
"Eddy, who was well recieved in her debut with the Lyric Opera as Carmen last season, did not disappoint in this performance, holding her own as the female lead surrounded by the male-heavy cast. Her initial aria, 'Una voce poco fa,' was sweet yet robust, displaying her facility and range."
Libby Hanssen

Kansas City Star
13 April 2012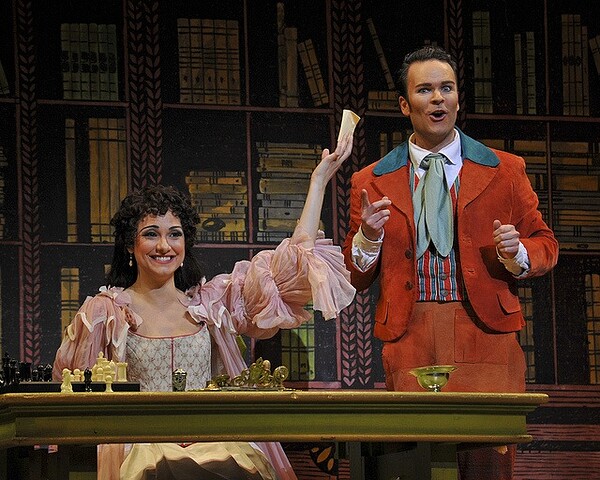 "Sandra Piques Eddy brought her beautful mezzo-soprano to the role of Rosina: It has a rich plumy lower register and vibrancy throughout."
The Independant
13 April 2012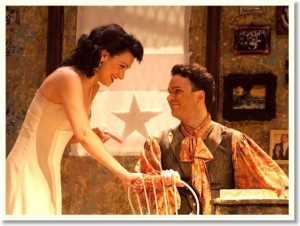 ROSINA in IL BARBIERE DI SIVIGLIA at Vancouver Opera
"American mezzo-soprano Sandra Piques Eddy is divine as the vivacious and feisty Rosina. Ms. Piques Eddy demonstrates her own timbre and her character's moral fibre with her showpiece aria Una voce poco fa. Rosina sings, "I am gentle and respectful, sweet and loving" -but she is certainly no pushover."
John Jane

Review Vancouver
21 March 2012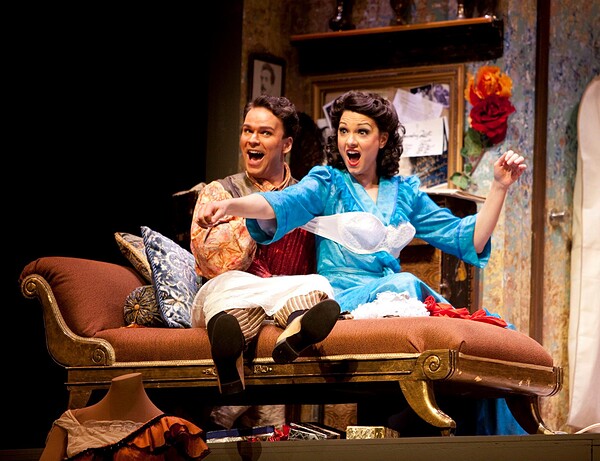 "Mezzo-soprano Sandra Piques Eddy, who boasts a wonderfully rich and sensuous voice, embodied Rosina with her wit, stubbornness and beauty- she was also game to gleefully ham it up, as in Act 2, when she and Figaro, sung by baritone Joshua Hopkins, play a cheeky game of dress-up with corsets and bras."
Jessica Werb

Straight.com
21 March 2012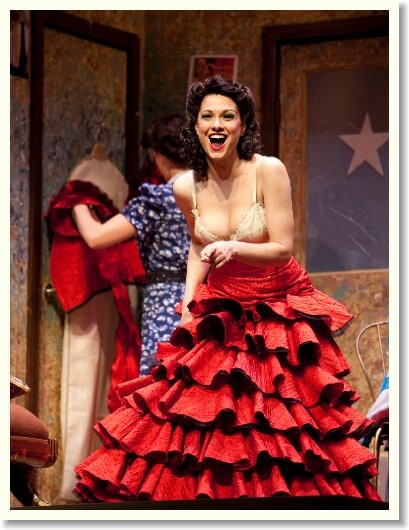 "Mezzo-soprano Sandra Piques Eddy played the role of Rosina effortlessly and her technique in singing just leaves you in awe. At some points in the show, Eddy sounded like a chirping bird seranading you outside your window. It was pure magic."
Gian Karla Limcargco

Vancouver Weekly
21 March 2012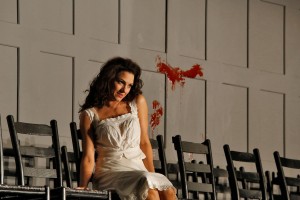 ZERLINA in DON GIOVANNI at PORTLAND OPERA
"Sandra Piques Eddy (Zerlina) was hugely appealing and Nicholas Nelson (Masetto) was sympathetic....match for her sumptuous mezzo."
James McQuillen - The Oregonian
19 February 2012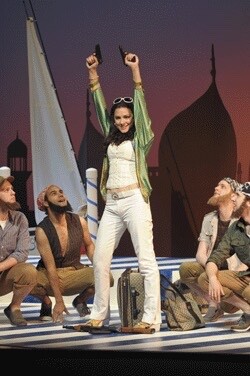 ISABELLA in ITALIAN GIRL IN ALGIERS at BOSTON MIDSUMMER OPERA
"As the richly characterized Isabella, the fourth of the flexible roles for the low mezzo voice Rossini cherished, Eddy sang with notable accuracy, and her remarkable beauty was underscored by her comic flair."
Opera Today
18 February 2012
"Excellent singing came also from Stefania Dovhan's Donna Anna....and from the Zerlina of Sandra Piques Eddy, who was the outstanding vocal success of the evening; both of them were also lovely to look at."
Bernard Jacobson - Seen and Heard International
18 February 2012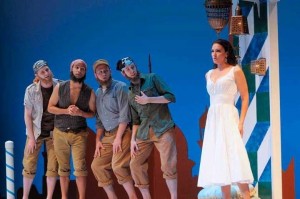 "The opera demands a very great mezzo-soprano, and on Wednesday, the fabulous Sandra Piques Eddy sang-and acted- the spunky heroine Isabella for all it was worth. Her feisty performance which mixed eroticism with brain power, was alone worth the price of admission. This was a truly extraordinary experience. What a voice! What slithery movement! She made Jay Lo look like a nun. She looked toned, tan and terrific as if she had just emerged from the gym and shopping at Bergdorfs."
The Boston Music Intelligencer
17 February 2012
"Sandra Piques Eddy, in the title role, stepped onto a Middle Eastern shore, seemingly straight from the Italian edition of "Vogue", deploying confidently flirty glamour and down-to-earth impudence in such quantities as to indicate that her battle of wills with the tyrannical Mustafa (Eric Downs) was going to be comfortably one-sided. Eddy's mezzo-soprano was terrific, plenty of power and polish, gunmetal low notes, percolating roulades."
Boston Globe
17 February 2012
L'ITALIANA IN ALGIERI at AUSTIN LYRIC OPERA
"The stars in this production are undoubtedly Sandra Piques Eddy as Isabella and Paolo Pecchioli as Bey Mustafa; both are gifted singers and comic stage actors, and under stage director Herbert Kellner, they rarely missed an opportunity to elicit a laugh. Eddy delighted Austin audiences several years ago in Rossini's La Cenerentola, and she has returned in even richer voice. She is now vastly experienced- having made numerous appearances at the Met- and is very much at ease with the demands of bel canto."
La Scena Musicale
16 February 2012
"Leads Sandra Piques Eddy as the Italian 'Isabella' and Javier Abreu as her enslaved fiance 'Lindoro' receive the best arias and duets in the score and treat them with respect. And although the music is fluff by opera standards, the pair performs their songs with all the styling and expression of a Verdi masterpiece."
Austin on Stage
15 February 2012
" But Isabella (Sandra Piques Eddy) is more horsepower than Mustafa expected, and she plots an escape with her fiance Lindoro. The leads are brilliant...Eddy embodies Isabella perfectly, as a cross between Amelia Earhart and Sophia Loren. The voices of both (Pecchioli and Eddy) were resonant and fluid transmitting a bouquet of emotions from comedy to despair."
The Austin American-Statesman
14 February 2012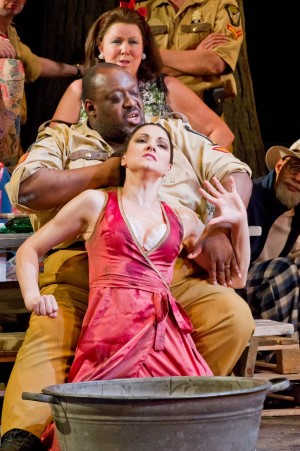 CARMEN at OPERA NORTH (UK)
"Instead, mezzo soprano Sandra Piques Eddy has the audience mesmerised singing the title role in Opera North's production of Bizet's Carmen at Nottingham Theatre Royal on Tuesday, May 24. Eddy's Carmen has temptation written all over her. From the untamed mane of curls to the undies-revealing frocks, the girl has attitude. She sings the role with passion, and is a fine actress too."
The Newark Advertiser
13 February 2012
"Played deftly by Sandra Piques Eddy the title role is a brash, sexy, factory worker whose past experiences in the town have hardened her. Piques Eddy's Carmen is terrifically pitched with Peter Auty's Jose..."
What's on Stage
12 February 2012
"A production to stir the soul and set the pulse racing and Sandra Piques Eddy gives a performance to remember."
This is Lancaster
11 February 2012
"Opera North's production at the Grand Theater had it all. Sandra Piques Eddy as Carmen was beautiful and her rich velvety mezzo soprano exuded passion."
North Leeds Life
10 February 2012
"This production could have been overwhelmed by these inventive and evocative sets were it not for superb performances of the singers. As Hansel, Sandra Piques Eddy had the awkward stance, mannerisms and enthusiasms of a young boy down pat. Maureen McKay was also totally convincing and together they had a great time sticking out their tongues at each other, running around arms akimbo and strutting up a kooky, over-the-top improvisational dance after outsmarting the Witch. In the vocal department, both singers topped the charts with gorgeous, resonant voices that still conveyed just the right amount of naivete for their characters. Their angel's prayer duet was heavenly and came across as a personal statement that went to the heart."
Oregon Music News
09 February 2012
HANSEL in HANSEL and GRETEL at Portland Opera
"Most crucial, the cast was dynamite. One knew in advance that the show had two lovely leads in Sandra Piques Eddy and Maureen McKay and one listened and watched in awe as they sang, danced and played the siblings with style, color and panache. As a Hansel even younger than he's usually played (he seemed about six or seven), Eddy had the boy thing down and was most convincing. She poured out Hansel's music in a beautiful, lush mezzo-soprano, richer than this role really needs."
Opera News
09 February 2012