"Sandra Piques Eddy's sensual powerhouse of a Carmen...beautiful work of visual imagination ignited by Eddy's prowling, nervy, physically unshackled performance as Carmen."
Oregon ArtsWatch
"On Friday night at Keller Auditorium, Sandra Piques Eddy gave one of the best performances of Carmen that anyone can possibly imagine. She captivated the audience with a tantalizing combination of emotions that made Carmen absolutely bewitching."
Northwest Reverb
"A captivating Carmen for a new generation."
The Oregonian
"Mezzo-Soprano Sandra Piques Eddy plays the extraordinarily demanding role with shattering impact... Eddy is sensual and intoxicating."
Boulder Daily Camera
"In chiffon peignoir, Sandra Piques Eddy makes a sumptuous siren of a Poppea."
Telegraph
"Piques Eddy dominates, a compelling and seductive actress and singer."
Spectator
" Poppea (Sandra Piques Eddy, in powerful and lustrous voice..) is a cross between Liz Taylor and Christine Keeler."
The Times (London)
"As Poppea, Sandra Piques Eddy is perfect: a dark-haired diminutive minx whose voice is full of blandishments as seductive as the long furry cuffs on the sleeves of her silk gown."
The Observer
"Sandra Piques Eddy's magnificently sung Poppea has the feline presence of a young Sophia Loren."
The Guardian
"She demonstrates great artistry-covering a tremendous vocal range with clarity and speed- along with considerable comedic instincts. Her "Una voce poco fa" is simply spectacular."
The Tennessean.
"See her now so you can brag about her later."
Arts Nash
"As Isabella, Sandra Piques Eddy strides about the stage, whip in hand, charm to spare, her dark, honey glutted mezzo-soprano agile and enticing."
Globe and Mail
"The shining exception was mezzo Sandra Piques Eddy, a wonderful singing actress whose Carmen used her burgundy-rich low register as a powerful tool of seduction."
The Chicago Tribune
"Sandra Piques Eddy was commanding as Angelina. Her dark, sensuous mezzo and charming presence showed star quality".
Opera Magazine
"...I would need to break out the thesaurus to find more synonyms for 'sexy' because Sandra Piques Eddy, in the title role, was sex personified."
KC Metropolis
".. charismatic mezzo Sandra Piques Eddy has future star written all over her."
The Boston Globe
"The brightest sparkle belonged to Ms. Piques Eddy, a swan-necked mezzo with fine technique, a range of colors from honeyed to bright and charm to burn."
The New York Times
"American mezzo Sandra Piques Eddy (who's already sung Carmen for Opera North and is no stranger to the Met in New York) was the scheming courtesan of the title to perfection, with a velvety low register in her voice to die for."
Manchester Theatre Awards
".. sung and acted to perfection by the lustrous mezzo-soprano Sandra Piques Eddy"
The Chicago Tribune
"Her mezzo soprano was rich and warm throughout her range her technique so effortless as to seem imperceptible, and she was equally effective as heartbroken son, romantic hero and finally, chosen ruler."
Opera News
"... Sandra Piques Eddy in a tour de force that combined a dark, resonant voice, solid bel canto technique, comic talent, and scenery-chewing stage presence."
Arts Atlanta
.. Able to stop a listener cold with her coffee-with-cream voice."
Los Angeles Times
".. luscious of voice, looking good and moving well"
The New York Times
.. With her rich, velvety voice, stunning good looks (think a young Vivien Leigh) and above all her depth of feeling for every word and note she sang, she was utterly glorious"
The Boston Herald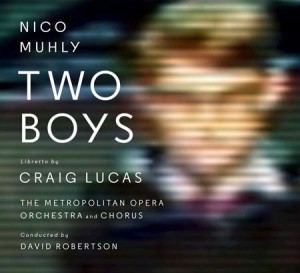 Nonesuch releases Metropolitan Opera recording of Muhly's Two Boys on September 30, 2014
September 14, 2014
---
Carmen Dress Rehearsal: The Habanera